Time Zone Settings¶
Important
Time Zone settings is available in software versions from AIMMS 4.77 onwards.
This section outlines the Best Practices to follow for creating multi-timezone applications and also explains few of the relevant and important WebUI Library sets and functions. For a detailed explanation and a working example please refer to our Multi-Timezone application with best practices article.
Applications are accessed across the globe. Users in different time zones find it difficult to convert times when the application is set in a different time zone. AIMMS has the flexibility to configure multi-user time zone applications. Time Zone Settings allows users to change the application time zone to their desired time zone. The data, configured to listen to the application time, changes as per the set time zone. This makes it very easy for users to read time across different time zones, and also set data using different time zones, not worrying about the conversion.
Users can change the application time zone in the Time Zone Panel, that is displayed when the globe icon on the right bottom corner is clicked.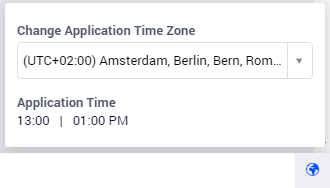 To activate the Time Zone Panel, toggle the switch for the "Time Zone Setting" option in the Application Settings under Application Extensions.
To create a multi-timezone application, the Timezone Support section has been added to the AIMMS WebUI Library. The next few sections describe some of the sets, identifiers, and procedures which you need to know and which will help you when building your multi-timezone application.